Types of Irrigation and Automatic Sprinkler Systems Rotors
Best to water grass on short to long distances, rotor sprinklers for irrigation are the best choice for open spaces because they require less heads to cover the same area sprayers would do. Every models are fully adjustable with arcs between 40 to 360 degrees full circle. These type of sprinklers also always offer a great selection of nozzles to water with low angle jets to standard elevation angles, and a selection of flows to caliber pressure and regulate water dispersion. There are 2 types of residential irrigation rotor sprinklers, the first one is the short to medium range family, which covers areas in between 15' to 35', the second one is to cover much more larger open spaces of grass and other landscapes, they are the medium to long range rotor sprinklers and they go in between 20' to 55'.
For other commercial applications like public landscapes, sports fields including golf courses, there are other categories of sprinklers like impact rotor sprinklers, double headed (dual jet) rotors, valve integrated stand alone sprinklers, stainless steel rotor versions and many more products available for larger than regular landscaped surfaces.
Irrigation Mini Rotors
For short to medium distances in between 15' to 35', the best choice for open spaces and to water grass automatically is to configure a mini rotor irrigation setup. Mini rotors need to be spaced at a regular interval of 20' to 25' of each other for optimal watering results. Every sprinkler rotor head can be adjusted to cover angles from 40 to 360 degrees and comes equiped with a selection of nozzles to vary water jet elevation angle and flow. Here are the most popular mini rotors available in irrigation systems.

On a different note, spray heads can also be converted into mini rotor sprinklers by adding a nozzle like the Hunter MP Rotator or the Rain Bird Rotary Nozzles. Those nozzles retro fit any standard pop up spray head and is perfect for sprinklers that don't cover enough distance without having to change the whole sprinkler itself. Here are short videos of the rotary nozzles in action.
Standard Residential Irrigation Rotor Sprinkler Heads
Ideal for medium to large scale lawns and other landscapes, they are designed to cover distances between 20' to 55' depending on models and nozzles used. Perfect to evenly water grass using rotative mecanism adjustable from 40 to 360 degrees. Like other types of rotors, they come equiped with a selection of nozzles to caliber elevation and flow of the water jet. Rotor sprinklers have built in filters to retain dirt or debris and avoid nozzles to jam. All models of rotors have pop-up bodies to clear tall grass and weeds. These types of medium to long range sprinklers need to be spaced 30' to 40' of distance between each other for maximum watering results and keep your grass green.

Rain Bird 5000 Series and 3500 Series Irrigation Rotors

K-Rain Rotative Sprinklers Mini Pro and Pro Plus Series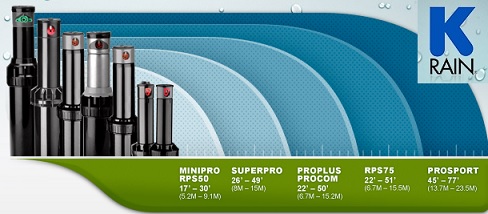 Hunter Industries Irrigation Rotors

Toro Rotor Sprinklers Series Mini 8 and Super 800
Commercial Rotors, Sports Field Sprinklers, Public Landscapes Watering Solutions
Of course large open spaces like parks, sports fields, golf courses and many other places needs to be watered to keep their landscapes and lawns inviting and green for the public. These open spaces require different types of sprinklers because residential heads don't cover enough distance in most of the cases here. Commercial sprinklers also use more heavy duty parts and materials and are more resistent to impacts and vandalism. There are different categories of commercial sprinklers, most of them are listed here:
-Commercial Entry Level Plastic Rotors
-Commercial Stainless Steel Pop-Up Body Rotors
-Commercial Heavy Duty Valve Integrated Standalone Rotors
-Commercial Impact Rotor Sprinklers