Irrigation Pop-Up Spray Heads Sprinklers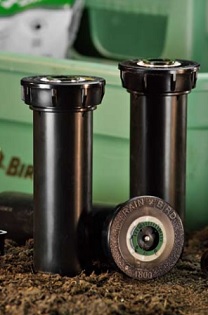 Pop-up spray heads are the most common used type of sprinkler for short distances between 5' and 15'. They are most of the time used to water grass and lawn areas, and also perfect to irrigate flower beds and other contour landscapes.
High pop-up bodies version available in 6" and 12" are tall enough to clear bushes and flowers during mid season when plants tend to grow higher. On the contrary, small height pop-ups like the 2" version is perfect for soils tougher to dig.
The most used pop-up spray head is the 4" version because it is a good compromise to clear grass and weeds while it doesn't need to be dig too deep for installation.
Risers can be put or added under spray heads to have greater clearance and clear shrub borders for example.
Spray heads have an adapter to fix a nozzle which determines the pattern, angle and elevation of the water jet itself. Most manufacturers (Hunter, Rain Bird, K-Rain, Irritrol and others) respect the industry's standard of male threaded adapters for nozzles except Toro that have its own female nozzle adapter pattern.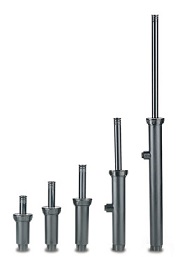 Spray heads are used in residential and commercial irrigation systems. While absolutely not necessary for the common systems, some models of spray heads have built-in pressure regulators to prevent variations.
All spray heads have a 1/2" inlet threaded adapter at their lower base to allow the water in. Longer versions like the 6" and the 12" have lateral inlet 1/2" adapters for lateral connection.
All brands of irrigation parts sold by irrigationlandscapelights.com only features the best available parts like wipper rubber seals, stainless steel recoil springs and heavy duty composites to manufacture sprinkler bodies.
There are many advantages using irrigation spray heads instead of rotors. First of all is because they disperse water using fix jets (no rotative action), they require less time to water efficiently a certain area. The second is that because they water more locally, it is easier to control the water jet direction with the amount of available different nozzles on the market. Finally, you will most of the time spill less water on driveways, paves and paths around the house when using pop-up spray heads to water along sidewalks, on the side of the house or other tight spots. And the last one, nevertheless, is that they are simply more affordable.
Rain Bird MPR Series Nozzles Compatible with Standard Spray Heads
Toro MPR Plus Serie Nozzles with Non Standard Toro Adapters

Rain Bird HE-VAN Series Adjustable Nozzles (Variable Arc 0 to 360 Degrees)

Hunter Industries and Rain Bird have developped a new nozzle technology allowing spray heads sprinklers to be converted into rotor sprayers. The Hunter version is called the Hunter MP Rotators series and the Rain Bird version is called the Rain Bird Rotary Nozzles series. Both models retrofit any standard pop-up and allows them to reach more distances up to 30' radius. Perfect to replace a spray head who isn't doing enough distance without having to replace the whole sprinkler body.